An exhibit at the 2017 Specialty & Agro Chemical trade show displayed a system by FLEXIM based on measuring changes in the speed of sound in a liquid that can be calibrated to determine conversion of chemical reaction that we think may be particularly useful for solvent-free phase-transfer catalysis reactions or in PTC systems that use solvent and are not overly dilute.
The advantage of the system is that no samples need to be taken and conversion can be monitored continuously after a calibration curve is established.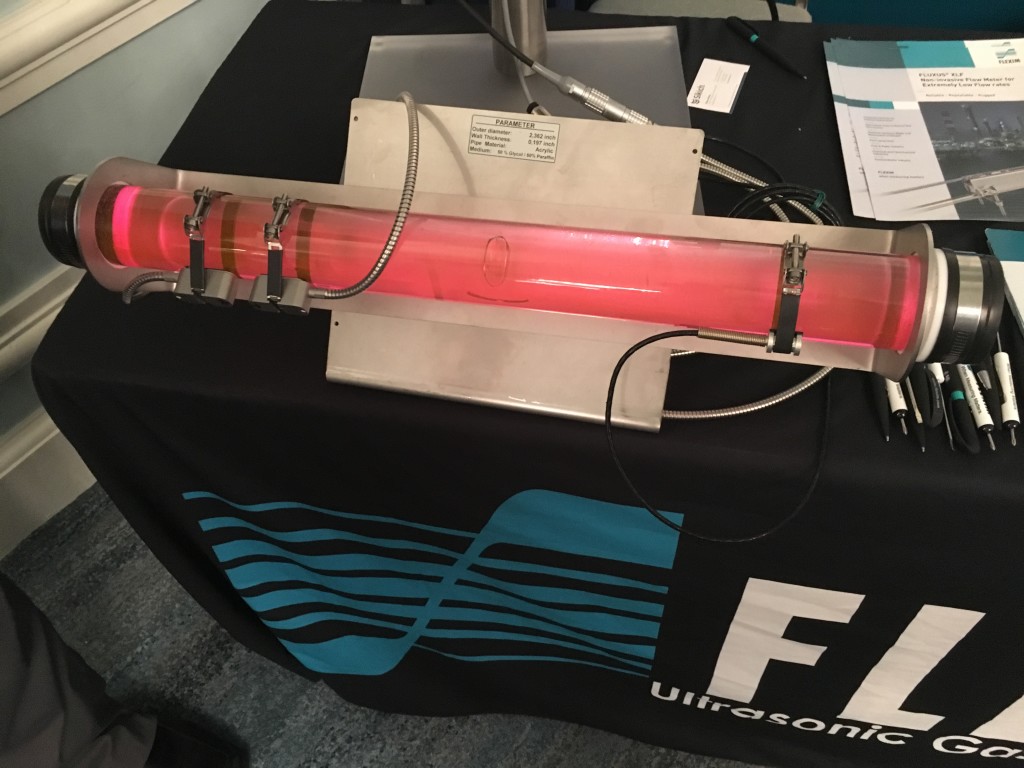 The principle is based on the fact that the speed of sound transmitted through a liquid is different as the density changes. The system uses a sound wave generator and a sound wave frequency detector, both attached externally to the outside walls of the reactor (shown on the left side in the picture). The reactor can be made of just about anything…glass, metal, plastic, etc. the system is quite sensitive and can discern between 10.0% aqueous NaCl and 10.1% aqueous NaCl, for example.
In Starks' original solvent-free PTC reaction reported in 1971 in which octyl chloride was converted into octyl nitrile, the difference in densities between these two materials could be used to determine the relative compositions of the two materials, thereby determining conversion.
The main application of FLEXIM's technology is non-invasive ultrasonic flow measurement.
PTC Organics would be happy to work with your company and the manufacturer of this system to evaluate the applicability of this system to continuously determining conversion of your PTC application without sampling, by integrating our highly specialized expertise in industrial phase-transfer catalysis with your company's needs and the expertise of the manufacturer of the unit. Now contact Marc Halpern of PTC Organics to explore custom developing a solution for your solvent-free PTC application (or concentrated PTC system).