An exhibit at the 2017 Specialty & Agro Chemical trade show in Charleston, South Carolina (just before Hurricane Irma hit the city) displayed a continuous feeder-mixer by Readco-Kurimoto that, in our opinion, may be useful for certain types of solid-liquid phase-transfer catalysis reactions. We speculate that PTC I-Reactions (in which the rate determining step is NOT transfer) that use two different solids such as NaOH and potassium carbonate and do not require vigorous mixing between the solids and liquids, may benefit from this system.
The unit starts with a screw feeder that delivers solids into a series of rotating blades that can be made of a variety of materials of construction and in a variety of geometries. There are two sets of blades, each on a shaft, that rotate with little clearance between them. This results in mixing and even mild grinding if solids are present. Liquids can be introduced at various locations along the axes of rotation. The unit can be enclosed for temperature control. The speed of the blades can be controlled. The diameter of the blades can be up to 24 inches.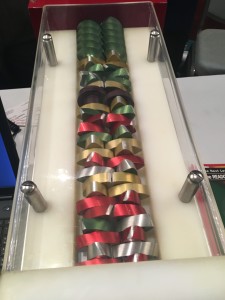 One can envision the use of this system for a continuous process for a solid-liquid PTC reaction. The solids are fed continuously and moved down the length of the unit first by the screw feeder then by the rotating blades where the liquid is introduced and mixed with the solids, all the while being moved forward.
The manufacturer of the unit is willing to test applications in their facility and apply their expertise to the selection of blade geometry and other operating parameters.
PTC Organics would be happy to explore working with your company and Readco-Kurimoto to evaluate the feasibility of this system by integrating PTC Organics' highly specialized expertise in industrial phase-transfer catalysis with your company's needs and the expertise of the manufacturer of the unit. Now contact Marc Halpern of PTC Organics to explore custom developing a solution for your solid-liquid PTC application.